Marketing and Business Development Strategy
Our relationship with Froelich Engineers kicked off with a two-day, in-person marketing planning retreat in 2017. In the time since then, we have met monthly with firm principals and leadership at the firm's three offices—located in Portland, Denver, and Bend—to review current efforts and discuss future forays.
Guided by Froelich Engineers' goals for growth, we have:
Developed personal networking plans for firm principles and institutional networking plans for the firm as a whole.
Responded to numerous RFQs and RFPs on their behalf.
Compiled and maintained an extensive library of master materials (resumes, project descriptions, photos) for use in proposals and other marketing projects.
Established a CRM (Customer Relationship Management) database to track and facilitate interactions with clients.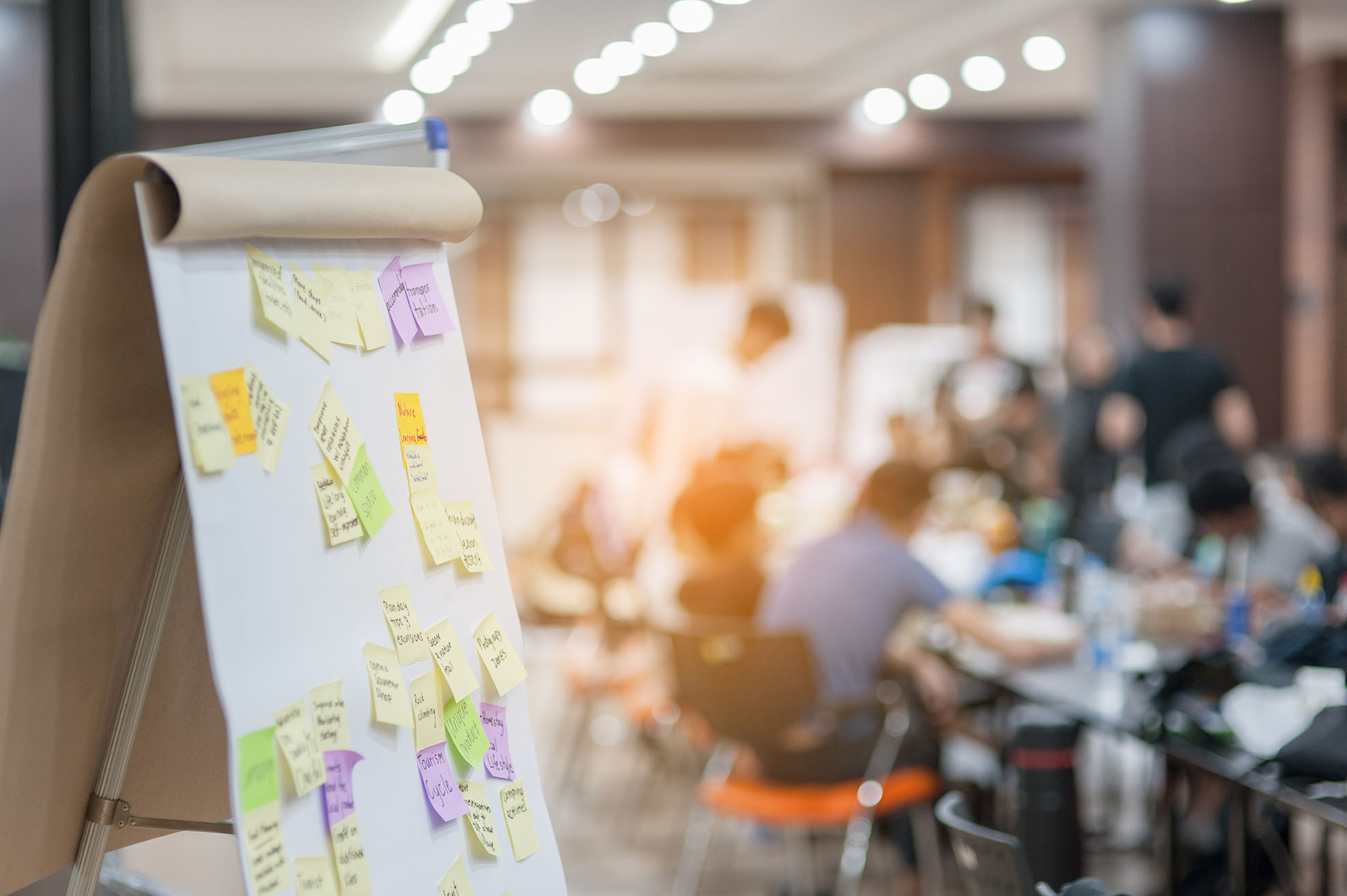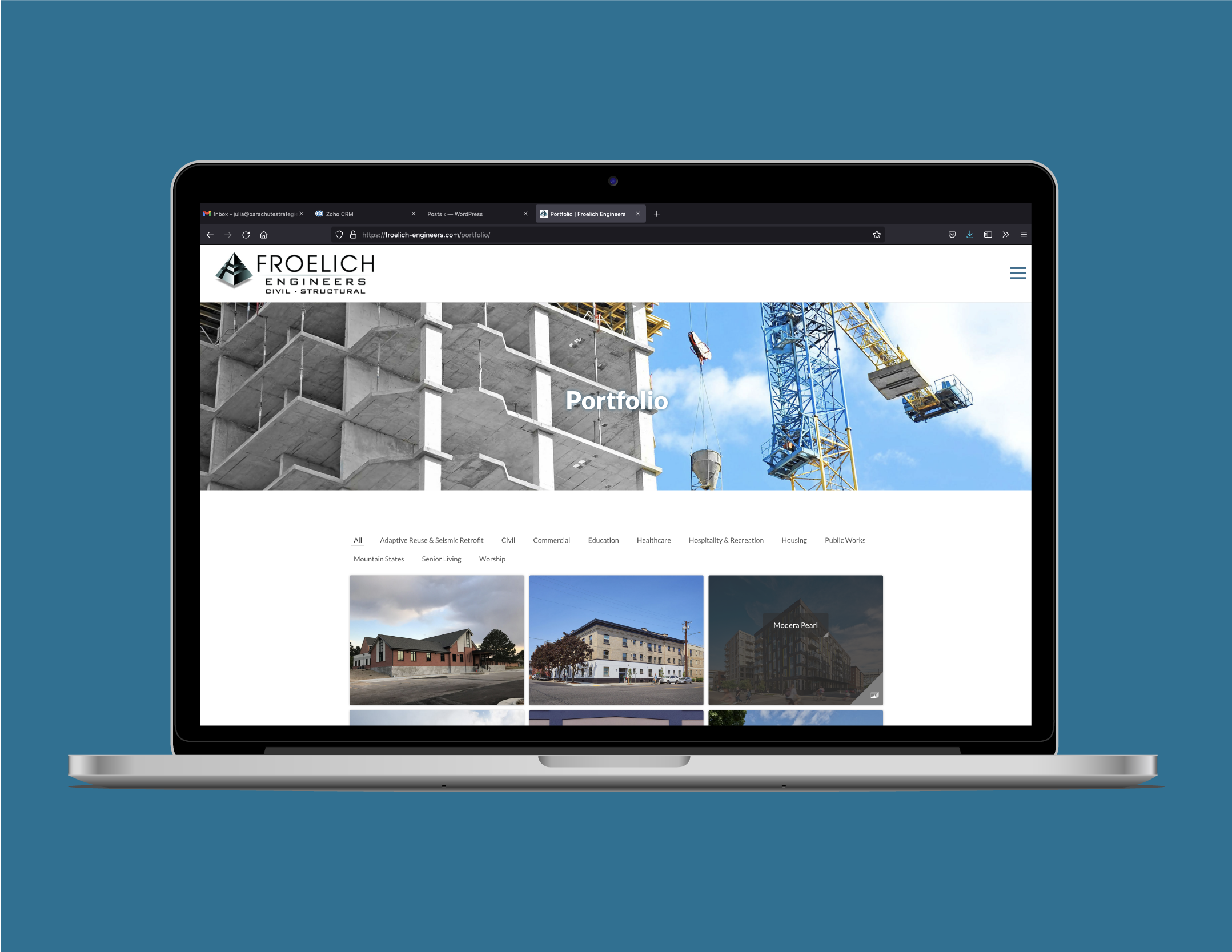 An Image-Rich Website and Blog
In 2018, we led an overhaul of the firm's website. We mapped the functional framework of the new site, designed and built in WordPress by Froelich's design team at the time. We have maintained the site and its content since its publication, updating the firm's online portfolio as well as its blog. We write posts that track their progress on notable building projects and offer allied professions an in-depth look at Froelich's approach to civil and structural engineering. We also provide SEO-oriented copy writing for the website to support digital ad campaigns.
The site's project portfolio represents a major undertaking. When we began working with Froelich, they had a modest collection of photos. Since then, we've expanded their image library to over ten times its original size, purchasing photos from photographers and architecture firms on an as-needed basis. We also retain a photographer to take head shots of Froelich employees as they come on board.
We manage Froelich Engineers' presence on Facebook and LinkedIn, feeding the platforms a consistent, house-crafted stream of content. We imbue posts—which touch on everything from ongoing projects, job opportunities, new hires and promotions, special events, and civic engagement efforts—with a humor and excitement that is in keeping with Froelich Engineers' attitude toward their work.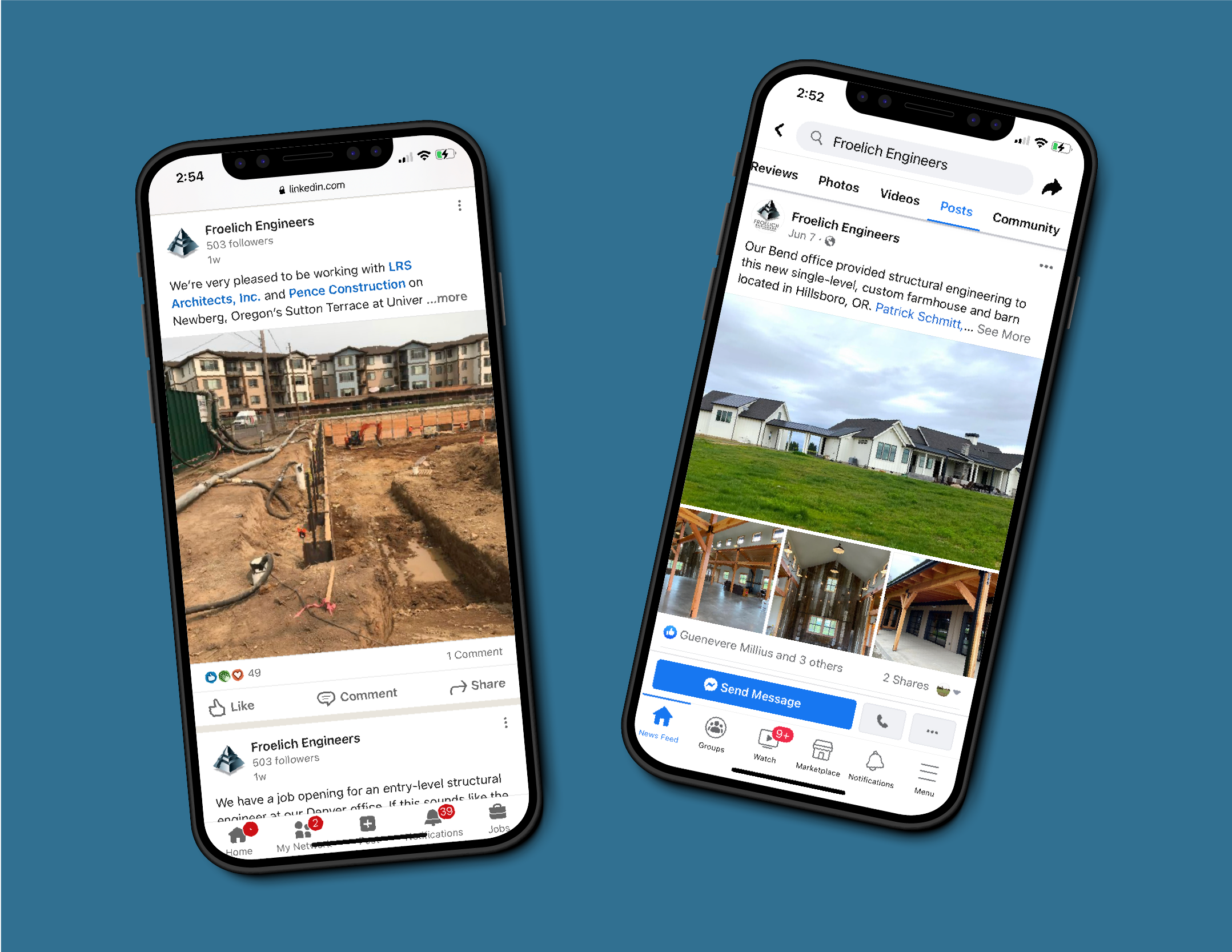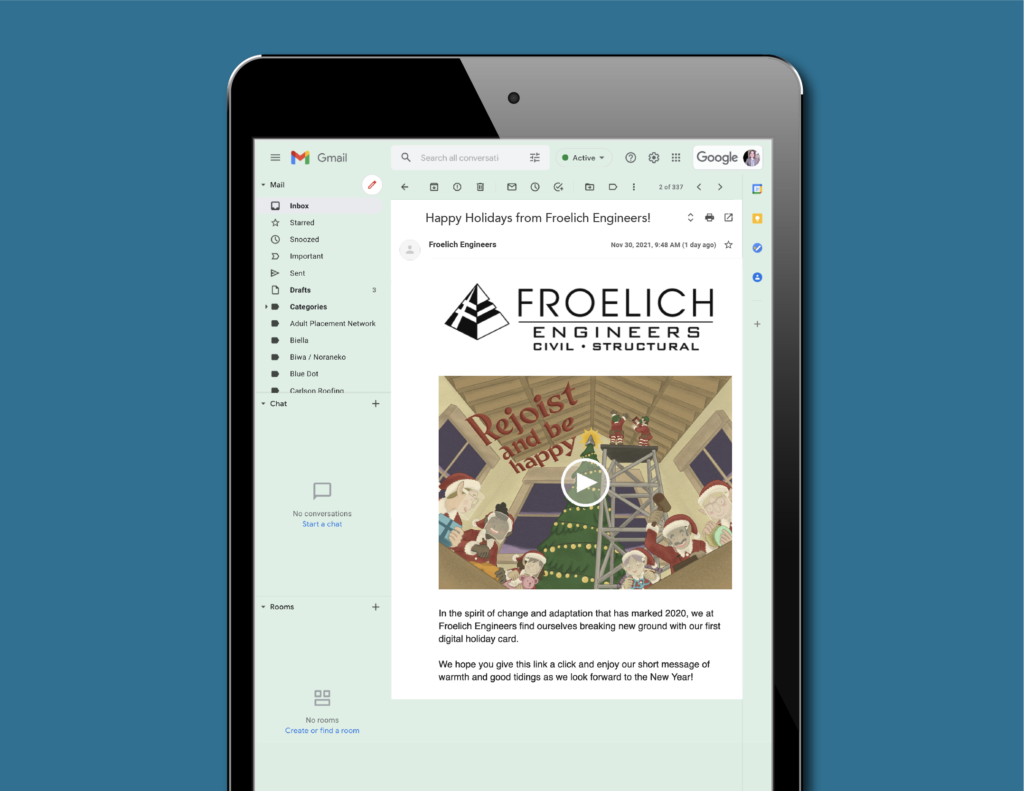 Updates from Froelich Engineers hit their network's inboxes once per quarter, with digital newsletter design, copy writing, and audience management provided by yours truly.
Our most notable newsletter to date? In 2020, we used Mailchimp to distribute Froelich's Christmas eCard, which we illustrated, animated, and edited in-house.
Sponsorship and Advertising
Combined with in-person networking, sponsoring events and placing ads in industry publications are two ways Froelich Engineers is expanding their brand-awareness among architects and developers across the country. We regularly research advertising and sponsorship opportunities, make buys, and design strategically targeted ads.
Digital advertising is also part of the marketing mix for Froelich Engineers. We coordinate and manage keyword campaigns for this client, carefully tracking campaigns' performance across their lifetimes and tweaking associated web content as needed.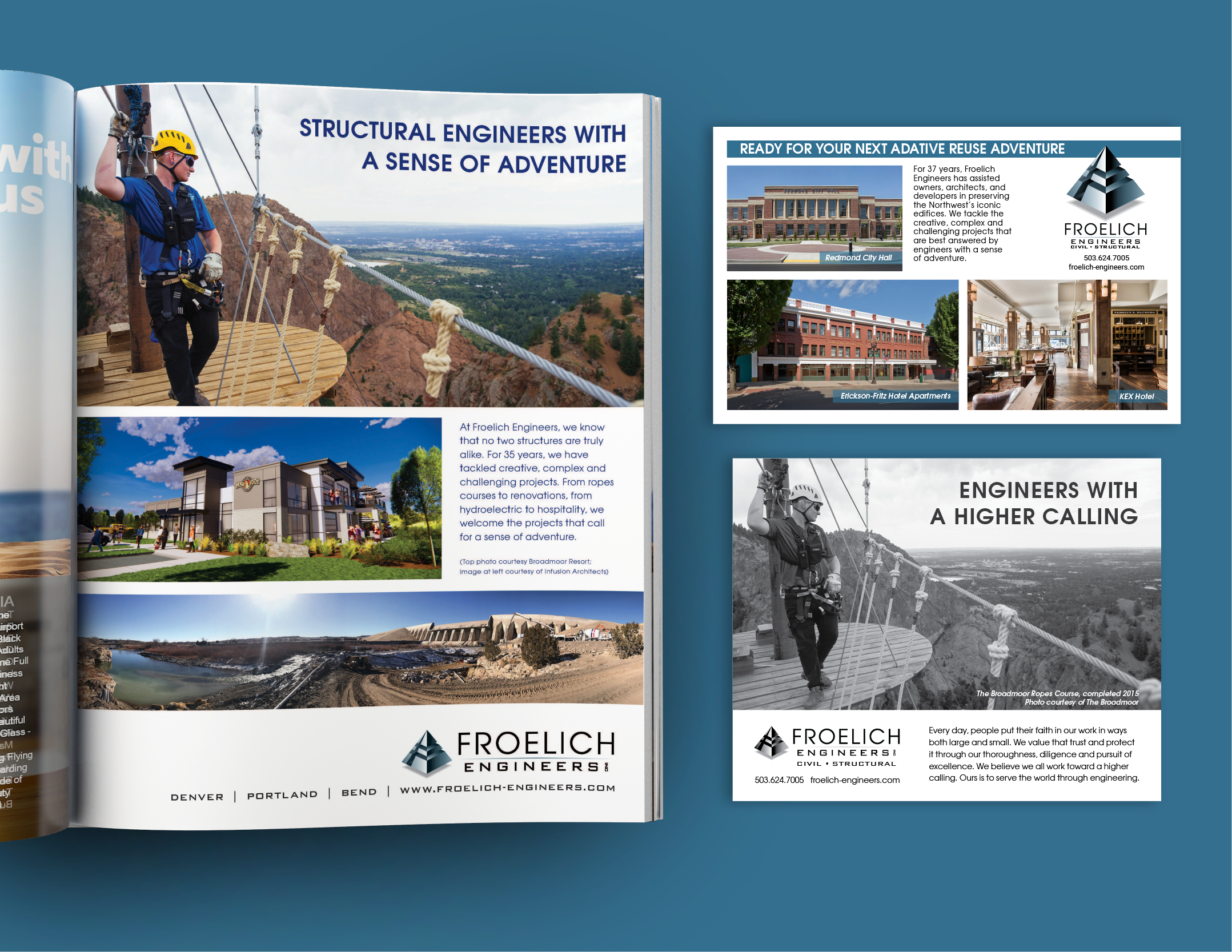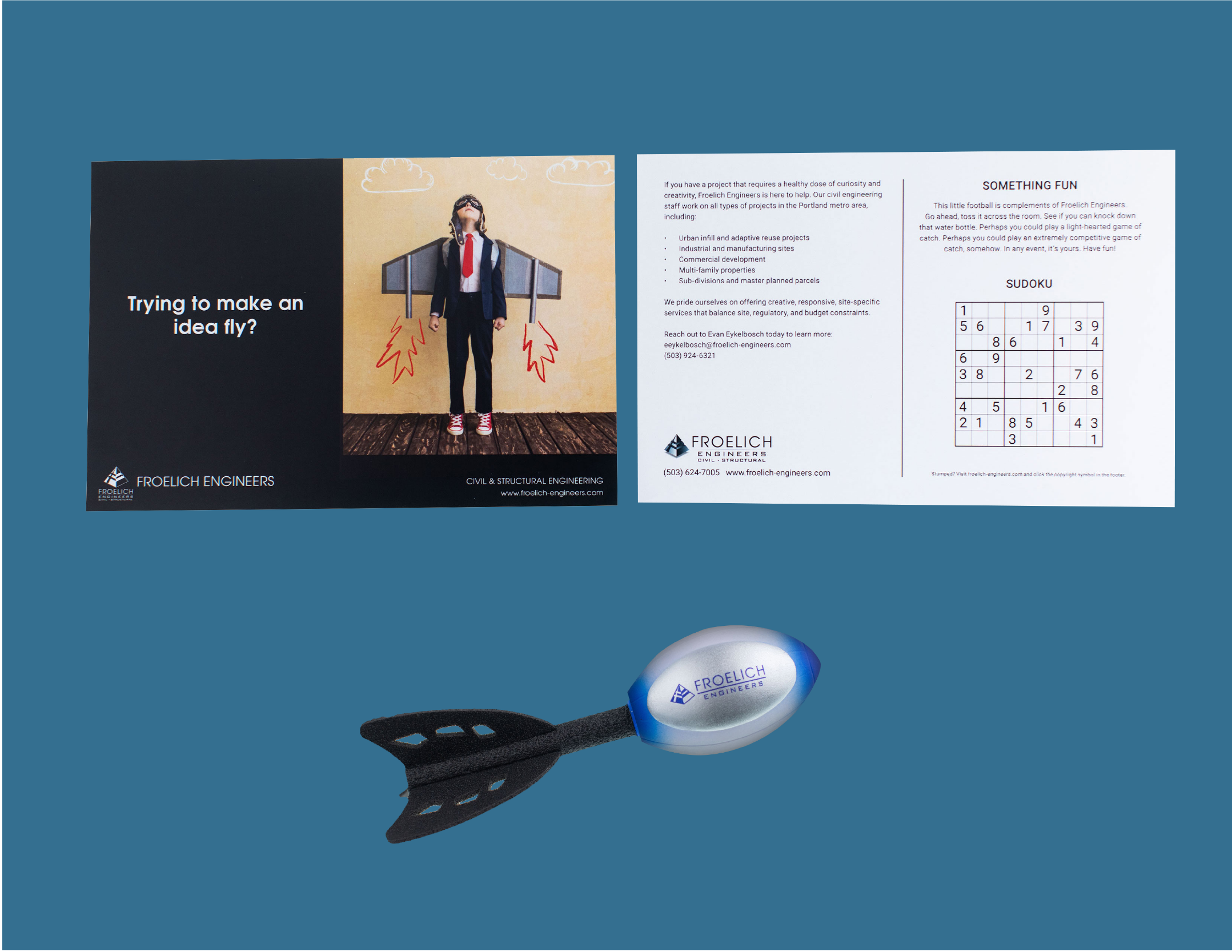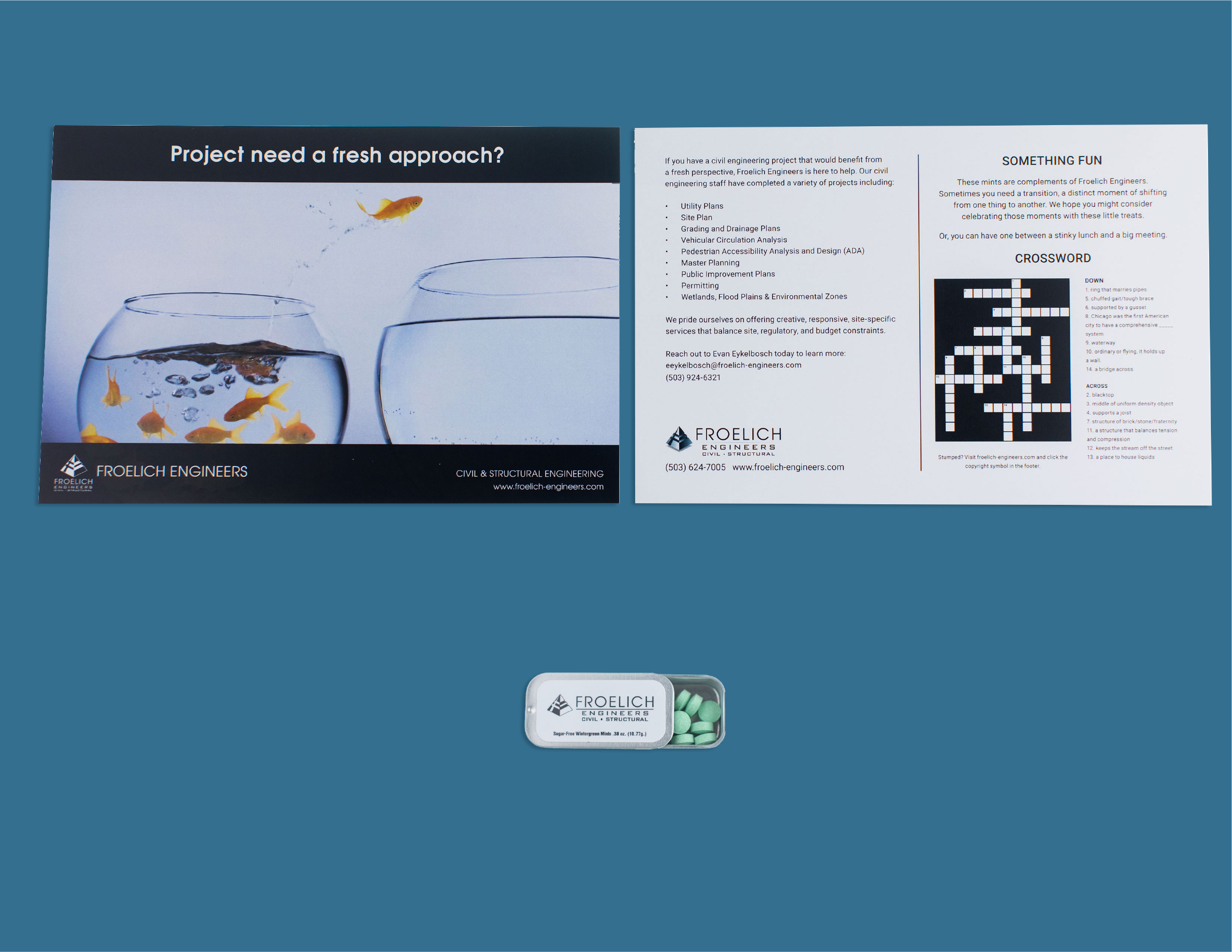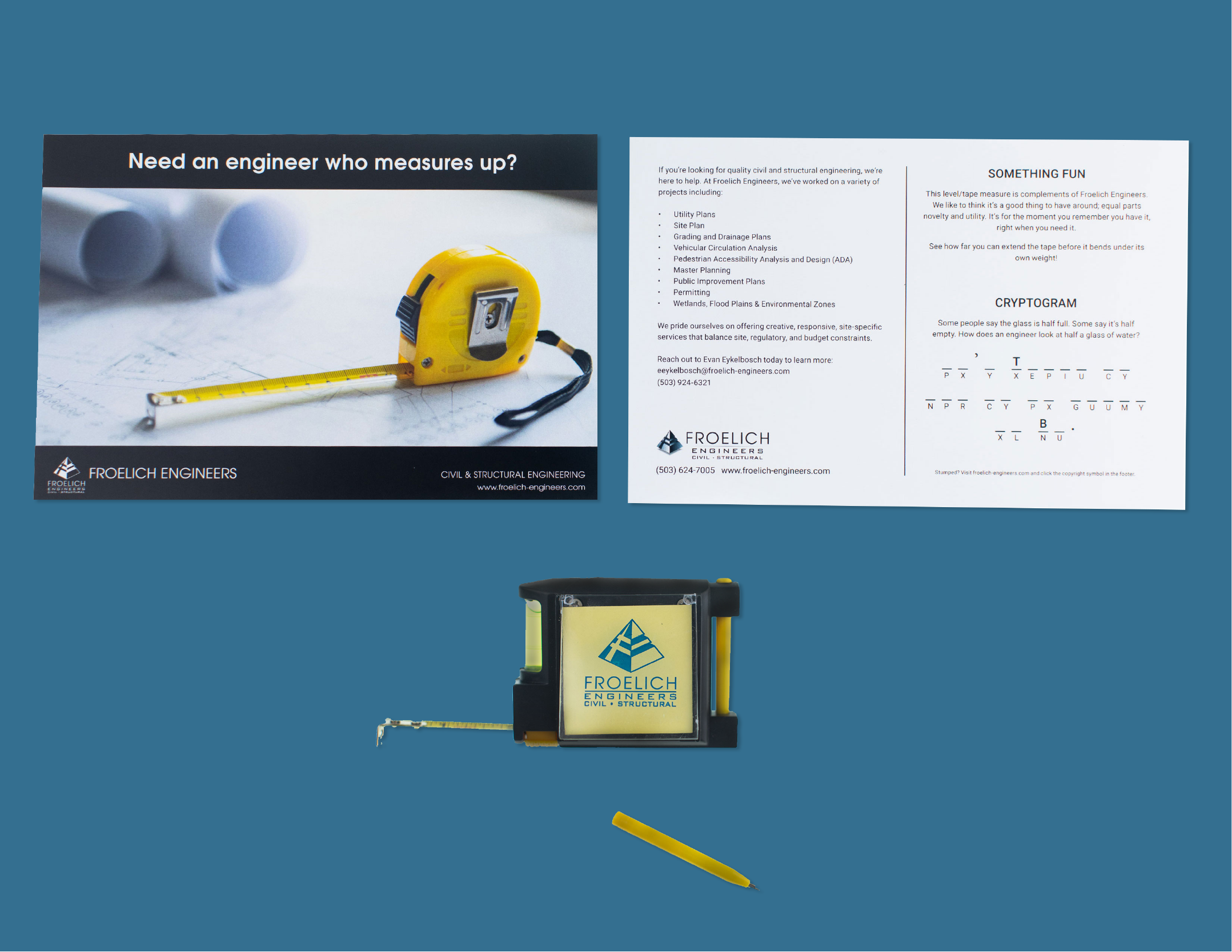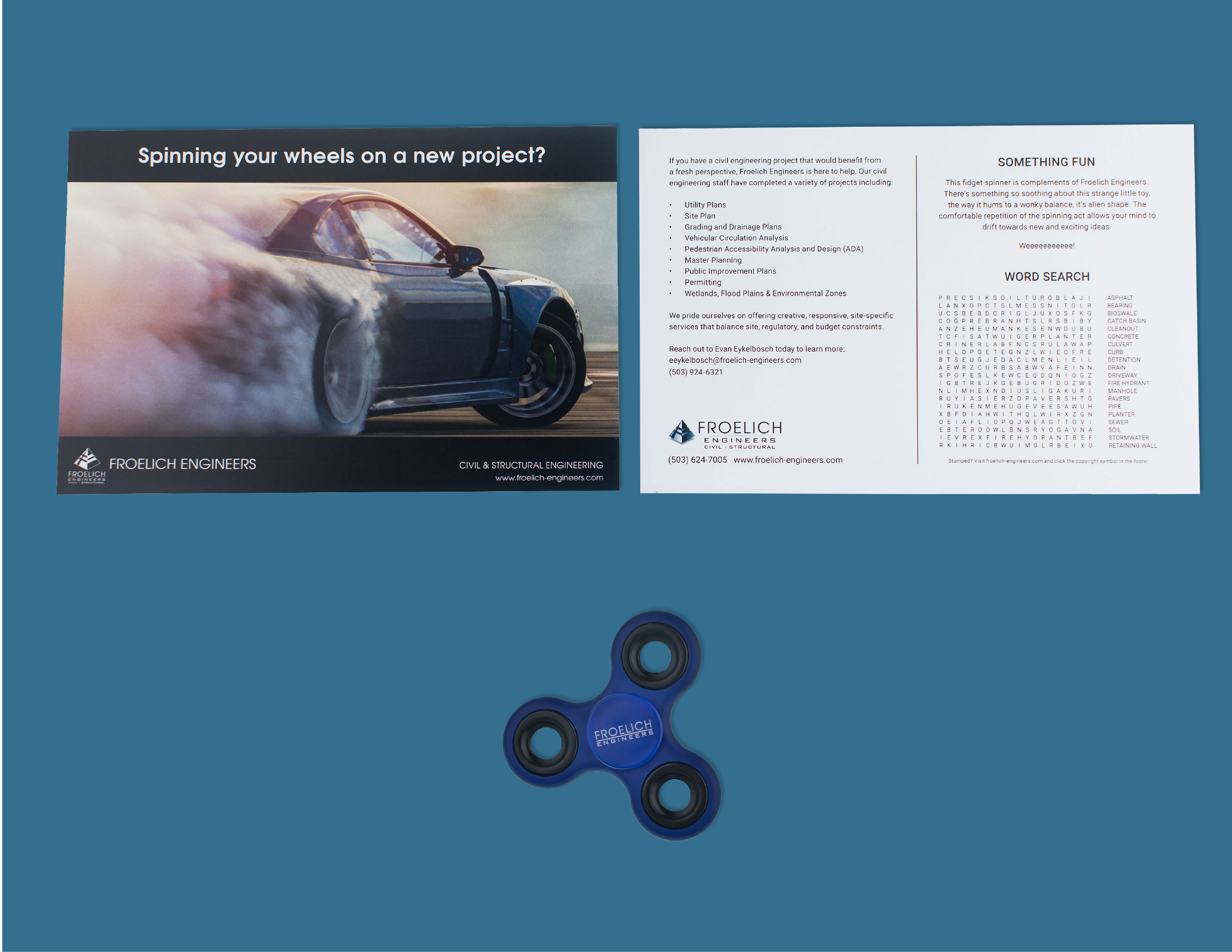 Print and Promotional Campaigns
We collaborate with company principals to plan direct mail campaigns that target specific markets with tailored messaging about Froelich's areas of expertise.
Pictured here is a series of postcards that pair messages about Froelich's approach to civil and structural engineering with branded swag like fidget spinners, breath mints, multi-tools, and stress balls. To further inject the campaign with fun and whimsy, each postcard featured an engineering-themed game.